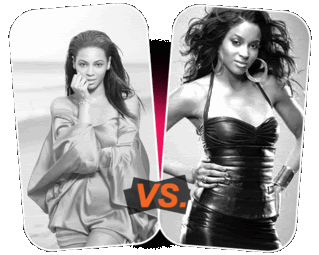 Two actresses. Two dancers. Two singers.Two divas. But who is the bigger diva? Who is the one that is just killing the game right now? It's becoming a hotly debated question, at least in my hood. Who is really better: Beyoncé or Ciara? Well, I must say, I like both of these artists. You have to give it to em. They are two of the biggest artists out right now. But of course, you know, one has to triumph over the other. So let me get started on comparisons...
1) ACTING
Well, the first category is definitely the easiest. Beyoncé first made her acting debut in Carmen: A Hip Hopera and has stayed on the right track since then. She has had a few flops (AKA
The Pink Panther
and
Cadillac Records
, but her roles as Deena Jones in
Dreamgirls
and Sharon Charles in
Obsessed
definitely make up for it (UMMM...DID YOU NOT SEE THAT FIGHT SCENE?!!!) I feel like she's not typecast at all. She's played several different roles showing her versatility as an actress. Ciara has starred in a total of two movies, one that has yet to be released. I saw her first movie on MTV,
All You've Got
, a volleyball movie that was a tad bit disappointing overall. Her acting was okay, but not the best. Hopefully, she's step up the acting and her new movie
Mama, I Want to Sing!
with Lynn Whitfield will be better. Better luck next time Ci-Ci..
WINNER: BEYONCÉ
2) DANCING
Well, this category is kind of harder to choose for me. I mean, these ladies are two great dancers. Who can forget Beyoncé coming out with the Uh-oh dance that you still can't help dancing to every time "Crazy in Love" comes on? Or dances from "Get Me Bodied?" Or the Single Ladies' Dance that is still EVERYWHERE (even got Joe Jonas doing it!!)She definitely has a flowing rhythm in her dancing. And Miss Ciara? Uh...duh: THE MATRIX from "Goodies" says it all. From "Goodies" to "Like a Boy" to "Love Sex Magic", we see that Ciara is very technical with her dancing. Every move is just precise and on point to me. B's dances are fun and hot, but you gotta admit that Ci-Ci beats her in the dancing department. Sorry B...
WINNER: CIARA
3) SINGING
Now to the tiebreaker: Singing. Well, I knew who I would be picking from jump...Ciara is a good singer. She tears it down in "Promise" and "And I". She has this soft yet strong voice that is great to me for ballads. She definitely can sing. And Queen B? We all know Beyoncé has been singing forever. She was trained in opera and can hit notes with SO MUCH POWER (Check Listen or Irreplaceable if you don't believe me). Sure, she has her moments where her voice can get kind of shaky like in Ego (sorry, the part with the ohs...her voice was mad scratchy. I soooo would've made her do that over lol Love ya B), but for the most part, Beyoncé is definitely on track with her singing talents. She is a powerhouse and easily beats out Ciara with the vocals. Ciara can sing, but, to me, Beyoncé can SANG!!!!
WINNER: BEYONCÉ
With the score 2-1, BEYONCÉ TAKES THE CROWN!!! Sorry Ciara, but Beyoncé is the top diva. She's the-the diva, she's the, she's the-the diva...Couldn't resist, that song stays in my head...
Hit me up with your comments. If you're going to disagree in any of these categories, give examples as to why you disagree. Love to the people...
PEACE.
~Brittany Shawnté