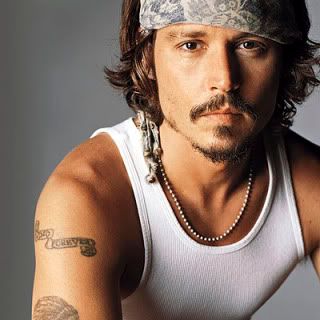 He's acted in so many films--the
Pirates of the Carribean
film series,
Sweeney Todd
,
Edward Scissorhands
, and
Cry Baby
, just to name a few. You would think someone of Johnny Depp's stature wouldn't even think about the little people in the world. But he does. After the premiere of his new movie
Public Enemies
in Chicago, he, along with some of his friends, stopped at Gibsons Steakhouse, a reportedly hot spot for him while he was filming the movie. His waiter, Mohammaed A. Sekhani, had no idea what was in store for him at the end of the night. After the night was done, Depp paid the bill and gave his waiter a $4000 TIP!!!! for a job well done. Appararently, the waiter, known to Depp as "Mo", served Depp when he would come to the restaurant. Talk about generous!!!
And people say celebs are out of touch with their fans, and could care less about other people. Well this man definitely isn't like that. A $4000 tip?!!! Depp was called by Mohammaed a very humble guy and a cool dude. Go Johnny!!! That's another reason to add on to the list of why I love the man! Great actor...great looks...great generosity!
PEACE.
~Brittany Shawnté