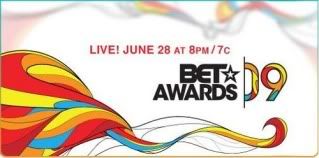 *******SPOILER ALERT!!!!*******
If you have not watched the 2009 BET Awards yet, and wish to watch it later on in the weeks to come, and don't want to know what happened just yet, DO NOT READ THIS BLOG!!!!!!!
Well, I said I would write about it and I most definitely am. This post may just be a little longer than the others, but I just have so much to say. Last night was the 2009 BET Awards. It was hosted by Jamie Foxx, and, of course, featured several superstars such as my girl Beyoncé (I'm gonna get to her a little bit later in this post), Ne-Yo, Alicia Keys, etc. etc. Of course, upon hearing about the unexpected passing of the King of Pop, Michael Jackson, on Thursday, BET decided to change the show around to pay tribute to this great legend who has left behind such a beautiful legacy.
Well, in all honesty, I kind of wished they didn't. When I first heard that they would be changing the show around, I didn't think that it would be the best. They only had a couple of days to work with, so I knew that it just would not be the best tribute ever. BUT LAST NIGHT WAS JUST A HOT MESS!!!!
Ok, first, it started in the pre-show with Mr. Marlon Wayans opening his big mouth and saying that New Edition would be performing first. I'M PRETTY SURE THAT WAS SUPPOSED TO BE A SURPRISE!!!! Thank you Marlon. BET, now yall know that yall need to keep some things to yourselves. Then, when New Edition came on, they had all six members, which I was surprised by. They performed Jackson 5 hit songs, and it was ok. Not the best, but ok. They tried. I gave them that. Their costumes were hot though.
Throughout the night, everybody was commenting on Michael, which was to be expected. People were trying to give tribute, but all in all, it just wasn't working for me. Ciara sang "Heal the World" which was okay. Again, like New Edition, not the best, but I gave to her because she tried. ONE OF THE BIGGEST FLOPS OF A TRIBUTE was from Miss Keri Hilson. Her behind was gyrating on stage like she was Elvis, and it was just not good at all. I was extremely disappointed with her performance.
Let me tell you who else just got on my last nerves. Mr. Jamie Foxx himself. Now I love Jamie, don't get me wrong. Dude is funny, and he is very talented. But last night, he just lost himself. I feel like he made it all about him, when it was supposed to be mostly about Mike. I especially saw this when he had a whole crowd of loud ghetto black people (YES I SAID IT!! I'M MAD!!) around him trying to get their five minutes on TV. He told them to calm down cuz this was for Mike, and then his behind gonna start talking about his stupid tour. All night long, he was talking about his stupid tour. He tried at some points to pay tribute to Mike, like when he tried to moonwalk all the way across the stage (emphasis on TRIED, cuz his moonwalk was busted). I was mad at him last night.
Yet another thing that upset me, were some of these costumes people were wearing in honor of Mike. Really just some of the costumes people were wearing period. People were wearing all of these Michael Jackson shirts, and not one of them would I actually even think about buying. One of my best friends, who I spent the entire show on the phone with, stated that they looked like somebody just took a giant sticker of Michael and pressed in on all of the shirts. Sorry to say, it's true. I'm tired of the ugly MJ shirts. They don't do him justice. THEN Jamie Foxx and Keri Hilson both sported these high as ever pants. Now I know that Mike did have his socks showing as he performed, but Jamie and Keri's pants were capris! Michael's pants were never that high! Ugh...Then my girl Beyoncé. Beyoncé, Beyoncé, Beyoncé. She performed "Ave Maria", and "Angel" by Sarah McLachlin. In the middle of her performance, she changed into this huge umbrella skirt thing that was just not necessary. She was supposed to be a bride, but, in my mind, it's a little too late to be trying to acknowledge you're married to Jay-Z. Yall done been together since 2002, 2003, and you didn't want to say anything about it then. You didn't even want to say anything when yall got married. So no sense in trying to promote it now. Sorry B, I love you, I really do, but that's how I feel. Told yall she was coming up.
Speaking of Beyoncé and Jigga, here goes yet another disastrous moment of the BET AWARDS. B was accepting her award for Best R&B Female Artist, and she turns to walk backstage, like what is normally done when you win an award. Jamie Foxx comes out of nowhere, escorts her to her seat, saying that there was a suprise, and he didn't want her to get hurt. So, of course, I'm sitting here thinking it's something big for Michael. But no, it's Jay-Z. Now I love Jay-Z's music and all, but all that wasn't necessary just for his behind to take the stage. I'm sorry, but it wasn't. Again another disappointment.
My last one, and I swear I'm done (Trust me, I could go on and on cuz I got a list). All of this unnecessary cussing just cuz the show was live. Now Eddie Levert let an explicit go, when he was accepting his Lifetime Achievement Award with the O'Jays. I let that go, because it was an accident. But Jamie was cussing frequently, and then oh Lord, Lil Wayne and his crew, acting like they didn't have no type of sense when they were performing. (Drake killed it though!!!) They were just cussing like their behinds were still in the streets. No, your ignorant black behinds (AGAIN YES I SAID IT!!!!!!) were at the BET AWARDS, a show with just a tad more class than you may be used to. Oh I was heated. Wayne is one of the hottest rappers out now, but come on now. Am I in the wrong for believing that the cussing should have been toned down by like, A LOT?! Ugh... And then Wayne having those young girls including his daughter Reginae up there by Drake? Yeah me and my bestie were wondering what they were doing up there...
Now don't get me wrong, the show wasn't all bad. They showed clips of Michael performing and talking about his work, and I greatly enjoyed that. Ne-Yo was great. He perfomed "The Lady in My Life" and I really liked it. Monica and Keyshia Cole performed my song "Trust" and they killed it. Then towards the end of the show, Janet Jackson made a surprise appearance (oh and Papa Joe Jackson was there too) as a rep for the entire Jackson family and said how she appreciated the love and support being shown to them in their time of bereavement (In her mind, she knows deep down that show was a mess). I remember she said, "To you, Michael was an icon. To us, Michael was family." She was seriously trying to keep herself together up there, and I just about lost it myself. Then the very last performance was with Ne-Yo and Jamie performing "I'll Be There". FINALLY A REAL TRIBUTE!!!! It was very beautiful, very classy, and very appropriate, UNLIKE MOST OF THIS MESS BET TRIED TO PULL OFF!!!! Jamie won back some points after that.
So yeah, the BET Awards had its good moments. But overall, I'm feeling like it was a fail. To me, it just hasn't been the best it could be since Mo'Nique was hosting. The tributes throughout the night were overall lame. I'm feeling like if you were going to make tributes to Michael Jackson, THE Michael Jackson, the King of Pop, the Legend, the Icon, it should've been a little more put together. I would have rather had a well put together, more thought-through tribute later on in July or something, than the mess that they tried to give him at the BET Awards last night. Yall know I'm right. Yall know I'm right. BET, AND MY BEAUTIFUL BLACK PEOPLE IN GENERAL, WE HAVE GOT TO DO BETTER!!!!! A lot of us are on track, but, as was seen last night, we have a LOOONNNNGGG way to go!
Leave your comments on how you felt about the show, or hit me up on the Facebook Page (under the name Brittany Shawnté for those who didn't know). Sorry for the long post, but hey, I had a lot to say, AS ALWAYS LOL!!!
Rest In Peace, Michael. I love you and you live on through your music and your beautiful legacy. I hope that you get a really good tribute sometime soon.
PEACE.
~Brittany Shawnté