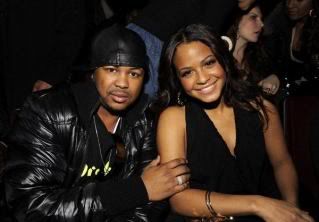 Well, I heard that they were engaged a while ago, but it's finally been confirmed. Christina Milian has confirmed that she and The-Dream will be walking down the aisle soon.
"We don't have plans yet -- but it hasn't [already] happened, that I can confirm," Milian, 27, told Us Magazine at Saturday's Venom Energy and Trainwreck party for music executive Billy Clark, of her upcoming wedding. "We just want to have our closest friends and family there; it's not going to be too big." The-Dream gave her a six-carat ring from Ivanka Trump's jewelry line.
And apparently, the couple is even thinking about kids. "I love kids, and [Christina] loves kids probably more than I do," The-Dream told Us Magazine. The-Dream already has a daughter from his previous marriage with singer Nivea. This will be Christina's first marriage.
Well, congratulations you two! Hopefully this marriage works out! I think they're cute together! And as far as kids, I'm sure they'll be great parents. Congratulations!
PEACE.
~Brittany Shawnté