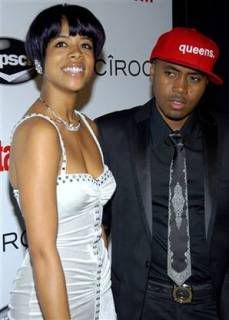 Access Hollywood has confirmed that R&B singer Kelis has given birth to a baby boy!!!! This is the first child for the singer, and the second for ex-husband Nas, who also has a 15-year-old daughter from a previous relationship.
"Kelis gave birth to Knight Jones last night on July 22 around 9 PM," a rep for Kelis said in a statement released to Access. "Weighing a healthy 7.8lbs, the beautiful baby boy and his mother are doing wonderful." Reportedly, Nas named the baby Knight.
We had found out Monday that Kelis had gone into labor. Kelis' rep said she chose a natural birth. Whoa...what?!!! Are you crazy Kelis?!!! I know that some people are afraid of what the epidurals might do to their babies, but oh you'd best believe that I will have mine when I get up in the delivery room!!! (one day far, far away from now btw LOL).
Kelis' mother and sister were present with her in the delivery room. A rumor has been flying that Nas was not allowed in AT ALL. Nothing has been confirmed by either of them about Nas' presence in the delivery room. But if the rumor is true, then dang, it's getting ugly already...I told you, don't let that beef between yall get in the way of you both raising this child!!!
Anyways, congratulations to you both!! Hopefully everything goes well with the raising of this baby even in the midst of your divorce.
PEACE.
~Brittany Shawnté