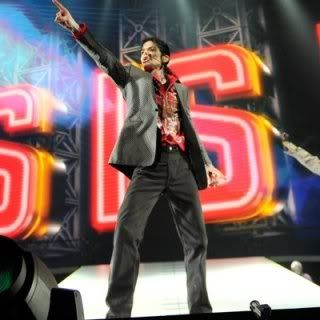 Man I was disappointed reading this news...
Access Hollywood confirmed that Sony secured the rights to the rehearsal footage of Michael Jackson's "This Is It" tour for $60 million. Yep $60 million!! It's Michael Jackson! Sony is planning to release a film of the footage in October (reports have said it might be on Halloween).
However, there was one condition. As part of their deal to get the footage, Sony also required that the planned August tribute concert in London be canceled. The studio stated that there couldn't be a tribute concert prior to the film's release, leaving me, along with millions of fans, I'm sure, somewhat disappointed. I was looking forward to the concert which I'm sure would've been televised, if not live, then sometime in the future. However, I know for a fact, that I would rather see Michael in his rehearsals of the tour, then seeing different celebrities pay tribute to them. No offense, I love Justin Timberlake and my girl Beyoncé, but they ain't Michael LOL. So Sony did what they had to do. I understand. Looking forward to going to that movie, even if I gotta go all by myself LOL. I'll be back at college, so I might even skip class and go see the earliest one LOL Hmmm...now that I mention it...yeah I'm seriouly thinking about it LOL I'm gonna come in there rocking a MJ shirt and everything. Probably would bring my camera cuz Lord only knows what the people of Baltimore and Towson, MD would be wearing LOL. Can't wait for the release!!!! REST IN PEACE MICHAEL!!!!
PEACE.
~Brittany Shawnté