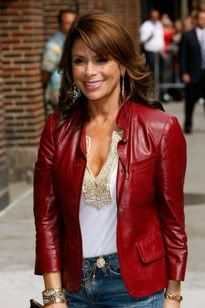 According to a new interview with the
Los Angeles Times
, Paula Abdul's manager has claimed that she may not return to
American Idol
for a ninth season. This news comes after it was stated that she would stay on. Apparently, Paula is not happy about not receiving a new proposal for her contract.
"She's not a happy camper as a result of what's going on. She's hurt. She's angry," David Sonenberg, the
Idol
judge's manager, told the newspaper. "Very sadly, it does not appear that she's going to be back on
Idol
," he said.
This is dishearting news. I mean, I haven't watched a full season of
American Idol
since Fantasia's season, but come on! What is that show without Paula?! She's the nice, encouraging one. The one who seems to manage to get Randy on her side most of the time, and the one that fights/flirts with Simon (yeah I always thought that maybe there was something there LOL). She's the reason why some of those people who auditioned made it through to Hollywood. Now, because FOX doesn't have their act together, she might not be returning. I had a feeling that she would be leaving soon, what with that new judge Kara something or other on now? No reason in the world to need four judges on that show! But maybe that's just it. Kara was probably there to replace Paula anyway, if not this season coming up then sometime in the seasons to follow. Hmmm....ok not a smart move but maybe that's just me. Anyway, I wish Paula the best.
Judge Simon Cowell is also in negotiations to renew his contract, while third judge Randy Jackson is attached to the show through 2011. Auditions for Season 9 begin on August 6, with the show set to return in January.
PEACE.
~Brittany Shawnté