Thought I would just do a recap on some of yesterday's news. A LOT WAS GOING ON YESTERDAY! Too much in fact.
Soooo....East Coast, how about that earthquake yesterday?! People are still talking about it, telling their stories. Where they were, what they thought it was, and everything. I was at the movies after a failed trip to the doctor's, and all of a sudden the theater started shaking!!! Looked around after it stopped, and everybody had that "WTF was that?!" look! Then the second shake hit, and everybody took to running (Note that it was a lot of us black folks, and we tend to run first, ask questions later. Hope that didn't offend, but I've found it to be true haha). Absolutely insane...glad there were no major injuries or fatalities. I do know some buildings were condemned around the DMV region though, and extensive damage to the National Cathedral (pictured left) in D.C. at the top. I know it's a regular day in the neighborhood to you all on the West Coast, but on the East, that ain't us! ESPECIALLY IN D.C., MARYLAND, AND VIRGINIA! We're not prepared for any type of extreme weather! (See Snowmageddon). Anywho, hope everyone is well.
Read more after the jump!
Second, let's talk about this mess of a rumor from
InTouch Weekly
about Will and Jada Pinkett Smith separating! When I first heard it, I said to myself, "If they can't make it, who can?!" There's not too many celebrity couples out now that have made it past a few years, let alone to the double digits like Will and Jada. Jada's publicist got word of it and responded to TMZ, "In Touch Weekly said that? Lord. I'm going back to bed." I laughed my head off. I also read this morning that rumors were going around that Jada was cheating on Will with Marc Anthony, her co-star from her hit show HawthoRNe! All lies. That's why I don't write ANYTHING on this blog unless I get it from my reliable sources online, which are few and far between, or see it myself. So that's why the Will and Jada story wasn't up.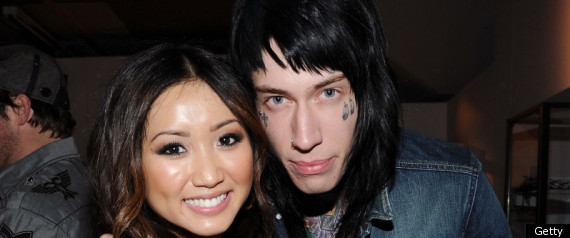 Also, the Brenda Song pregnancy story wasn't up, because I didn't totally believe it. Rumors came a few years ago in 2008 that she was pregnant with Joe Jonas' baby, which of course, were untrue. According to
Celebuzz
, she's pregnant with Trace Cyrus' baby. There hasn't been anything from either of them or their teams. So for now, I'm still a bit skeptical. I remember a while back when blogs and sites reported that Beyonce was pregnant, and I actually believed them! Come to find out that it was FALSE! And I was greatly disappointed. So I tend to be a bit suspicious if there's no word from the actual couple. If they are having a baby together, congratulations to them!
Great day indeed!