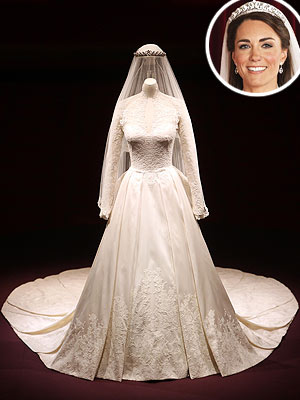 The intense craze over the Royal Wedding is slowly dwindling down, with the close of the display of Kate Middleton's beautiful wedding dress at Buckingham Palace. The dress had been on display this summer until now, from late July to October 3. Of course, the dress drew in a record number of visitors. According to
PEOPLE
, while exact numbers are not available, a rep at the palace says that more than 600,000 people came through to see the dress!
A spokesman for the Royal Collection, which organizes the annual exhibit of all things British royalty, said, "It is an incredible figure. It is easily a record. We were thrilled to welcome people from all over the world and delighted it has been such a huge success."
Kate's wedding dress is now headed to storage. According to a palace source, Kate is "keen to ensure that the dress survives undamaged for as long as possible, and so this inevitably means limiting the number of times that it is transported or displayed."
Of course Kate's dress would get this many visitors, which is said to be about 200,000 more than royal dresses past. Just about everyone was obsessed over this wedding! How many of you actually woke up early to watch it on TV? I know Aussies were crazy about it too. When I was visiting Sydney during a break, the hostel I was staying at even had a party dedicated to the wedding!