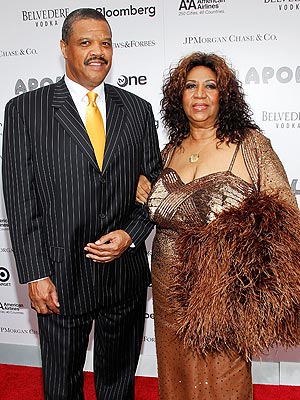 Seems things were a little too rush. Just a few short weeks after announcing their engagement, the Queen of Soul, Aretha Franklin and her fiance William 'Willie' Wilkerson have called off their wedding, which was supposed to take place this summer. According to
PEOPLE
, Aretha released a statement today:
"Regretfully, To Our Friends and Supporters: Will and I have decided we were moving a little too fast, and there were a number of things that had not been thought through thoroughly," she said. "There will be no wedding at this time. We will not comment on it any further because of the very personal and sensitive nature of it. We appreciate all of the many well wishes from friends." The statement was signed "Aretha and Will."
This is not necessarily saying that they're over, or that there will never be a wedding. Sometimes, people jump into things a little too fast. And yeah, Aretha's pushing 70, but yet and still, you don't want to have to go through any messy proceedings over a rushed marriage. Besides, so many celeb relationships are failing now a days, it makes me wonder who's next on the block. Here's hoping everything goes well with them.