So I wanted to watch
Love and Hip Hop: Atlanta
since it was first announced. Mainly because I'm in LOVE with the original
Love and Hip Hop
and knew that since it was based in the ATL, there would be a lot more ratchetness. Yes, I admit, I watched this show because I KNEW it would be ratchet! Fools' ratchetness equals viewers' entertainment. The producer of the show, Mona Scott-Young, knows EXACTLY what she's doing with these shows!
I wasn't going to actually recap the show, until a friend of mine joked about waiting for a review from me. So I figured why not? I'm recapping
JWoww and Snooki
, so why not this show too? Need new shows to talk about since
The Game
is done for the season. So let's go!
The show follows six ladies (Mimi Faust, Erica Dixon, Rasheeda, K Michelle, Karlie Redd, and Joseline) who are in some way all connected to the hip hop industry, whether it be through their men or in their own careers.
Read my recap below! It's a long one, but it's worth it. I bolded people's names so you can kind of skip around if need be.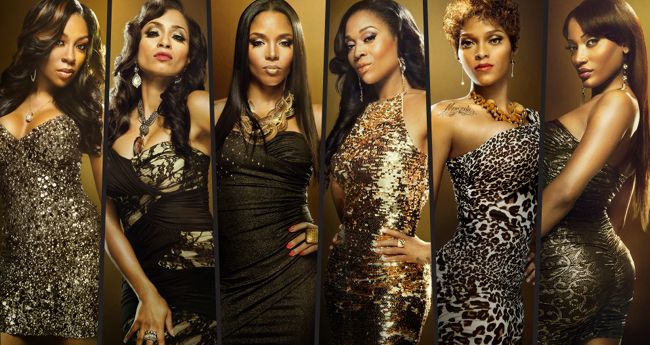 (L-R) K Michelle, Karlie Redd, Rasheeda, Mimi Faust, Joseline, Erica Dixon
The show first starts out focusing on Mimi Faust and her producer boyfriend Stevie J. Stevie wants to move Mimi and their daughter out of the city, taking her to a house in the sticks, which is really convenient since he hasn't exactly been the most faithful boyfriend. She has a problem with it because he's still going to stay in the city to work, while she's at home with the baby. He doesn't mention it being a home for the entire family. Deep down, Mimi knows that he's really going to be out there doing his dirt, so she tells him she will think about it and get back to him in a couple of days.
Then we go to
Erica Dixon
and her man, rapper
Lil Scrappy
. Scrappy had a fling with fellow ATL rapper Diamond. When Diamond left Scrappy to go to Soulja Boy, Scrappy came back to his baby moms. While discussing their relationship, Erica brings up all of these facts and lets him know that this is his second chance to make a home with her and their six-year-old daughter Emani. Am I surprised to see Scrappy on this show? Yes and no. Yes, because he hasn't released an actual album since 2006. And no, because he hasn't released an actual album since 2006. Reality TV is being used as a platform nowadays to publicize other ventures. And Scrappy needs some media attention since he's dropping another album next week. Definitely not a coincidence.
The show shoots over to singer
K. Michelle
is in the studio working on new music and recovering from heartbreak after her breakup with MempHitz who is now married to Toya Carter (K. Michelle never actually mentions his name, but we know that's who it is).
Later, Mimi talks with her friend Ariane about Stevie buying her the house. Ariane is honest with her, telling Mimi that she is always accepting his behavior and is afraid to leave and to start a new life. Mimi is definitely the typical woman who wants to believe that her man will change, when, of course, he won't. The cameras flash over to the studio where Stevie is working on a track and so-called dancer/actress/rapper but actual stripper
Joseline
walks in. With her bad fashion and weave, wannabe Rihanna persona, and not to mention man-like features, she's a hot mess. In fact, many on my
Twitter timeline
last night suspects she's a tranny (I plead the fifth!). However, Stevie serves as her manager and producer, and is determined to make her an international hit. Yeah, I don't like her. We see instantly that he's messing with this girl. She even calls him Daddy. It's a pure mess.
In the next scene, Scrappy goes to his mom's house,
Momma Dee
. She's very protective of him, so I guess this is going to be like Momma Jones with Jim and Chrissy like the first
Love and Hip Hop
. She used to pimp and sell dope, and is very hardcore. She's definitely crazy and He talks about his conversation with Erica, and claims that she can be irritating. However, Momma Dee understands why she wants that family unit, because she didn't have it herself.
Back to K. Michelle, she's been reconnecting with friends, and meets with rapper
Rasheeda
. She's been trying to get out of her contract with Jive Records, and reveals her relationship with Memphitz who was A&R. He beat her apparently and bought a lot from her budget, with nothing to really show for it in terms of actual music She never said his name, which I'm sure was a clause in her contract for the show SOMEWHERE. Now she wants a fresh start with her life and career.
Momma Dee calls Erica to talk about her and Scrappy's relationship. He's used to that affection, and suggests that she shows him more love. And Momma Dee brings it up that it's because Erica didn't have a good relationship with her own mom. Of course, Erica takes a little offense, but Momma Dee just wants her to fix things with Scrappy. I think that they could really make things work, but they both have to be willing to compromise with each other on certain things.
Mimi and Stevie J went out for drinks to discuss the home situation. She wants them all to be together, and he says he'll come home when he finishes working. She suggests him setting up a studio in the house, which he rejects because "the vibe is different" outside of the house. And because he has this ability to "make her smile and laugh," she passes it off. I'm gonna get to her later.
Later, Joseline and Stevie J. meets with upcoming singer
Karlie Redd
and her boyfriend Antonio Reid to get a hit for Karlie. Though she claims that Stevie is only her manager, Joseline is all over him. If she calls him Daddy one more time! It's annoying to me to see Stevie just blatantly disrespect Mimi like that, especially since she was with him for all this time (and his career definitely fell off track some years ago!).
At the end of the episode, the ladies head to a lounge for K. Michelle's birthday party, and Karlie and Mimi bond (they apparently hung out with each other in L.A.). Karlie brings up that Joseline is ride or die for Stevie J., which Mimi and Ariane shut down immediately! Karlie then brings up the meeting that happened yesterday. Stevie conveniently shows up (with Joseline in tow) passing compliments of how beautiful Mimi looks, but she is already upset. Mimi sits down with both Joseline and Stevie to clear up the situation. Joseline tries to pass it off like Mimi's crazy for thinking that she's with him. She's not having sex with him, but she calls him Daddy? Girl bye!
Karlie says she saw him kissing Joseline, which pisses off Mimi. When Stevie follows Mimi out as she leaves, Joseline throws a drink at him angrily to get his attention. Stevie walks back to Joseline
After a heated argument with Mimi, Stevie gets in the car with Joseline and leaves, showing exactly where his loyalty lies. I feel like
I should write Mimi an entire open letter
in a separate post, but I'm going to just say it all here and try to keep it short. Mimi, you have been with this man for FIFTEEN years AND you have a child with him. Why is there no ring on your finger? And why do you put up with his foolishness?!!! You KNOWWWWW beyond a shadow of a doubt that he is messing around on you with Joseline and God knows who else, and you still stay with him?! I know for myself that signs of foolishness and lies are always right in front of your face, and women have that instinct inside them when something's wrong. You never want to accuse your man of things that you are unsure about, but honey this is clear as day. He's trying to move you out of the city. He's hanging with Joseline ALL THE TIME. He even got in the car with her, and when you found him, he said he was looking for you?! Chile....all I'm going to say if you sat down and watched that episode, and you're STILL with him, you need to be backhanded for stupidity.
And let me quickly address the
homewrecker situation
, because many talked about that on Twitter last night about going after Joseline and whatnot. If I ever I get into a situation like that, I'm going after Stevie first, and then the heifer sometime later. But he's getting it the worst from me. I feel like women always tend to go to the other woman first, and I never understood that. Point blank period, some women just don't care if men are attached or not. They see something they want and they go after it. Joseline sure enough don't. She even tweeted this last night (along with a whole bunch of other craziness):
It's not for the other woman to be committed to you. You would like to think that no other woman would go after your man, and hopefully they don't, if they know he's in a relationship or married. However, they really owe no amount of loyalty to you. It's the man that does. So if I ever get into a situation like that, I'm going after HIM! Then I'll probably slap the girl later haha! But he's getting it the hardest because he is the one I was committed to, and expected the same commitment in return.
At the end, the ratchet and ridiculousness is why I'm going to be glued to the TV every time the show comes on. Don't judge me haha!
So make sure you check out my recaps the Tuesday after every episode! Hopefully they won't be this long every time, but this was the premiere and a lot went on, so I had to comment! I know you have a lot to say too, so sound off below! Love and Hip Hop: Atlanta comes on VH1 on Monday nights at 8 p.m.